hey there lovelies and a very happy wednesday to you, wherever you may be. today i thought i'd share not one but two of my recent colourful canvasses i created! i actually created four all together, but i've broken them down into pairs so that the blog post doesn't run wild and run away with me! above you can see the blank canvasses (two canvas boards this time), ready to receive all of the artistic goodness i can muster!
first layers of paint - i love just dotting out the paint all over and using my brayer to get an effect and a pattern i like. it's official - i love my brayer!
collaging first steps - playing dress up with papers before fixing my papers with gel medium.
once i'm happy with the layout i glue in place using my gel medium.
i'm loving my doilies and inking them up to match the colours of my canvasses.
time for some inks! i am loving my stencils and colour shine inks.
you can see my all-important cup of tea in the background there!
i let the inks dry for a good while - encouraging them a little with the embossing heat gun.
i collaged on my girl using my gel medium and added some tim holtz words to her (find your treasure). i also added a flower into her hair.
i decided to turn this canvas before adding my girl, just on a whim but i do like it.
i added some little blue flowers to her dress and some more words - embrace your dreams!
more elements added - a border of material scallops i inked up to tie in with the colour scheme.
time for stamping! i added the mantra look within.
for this one i added some india arie lyrics - just do you. love them!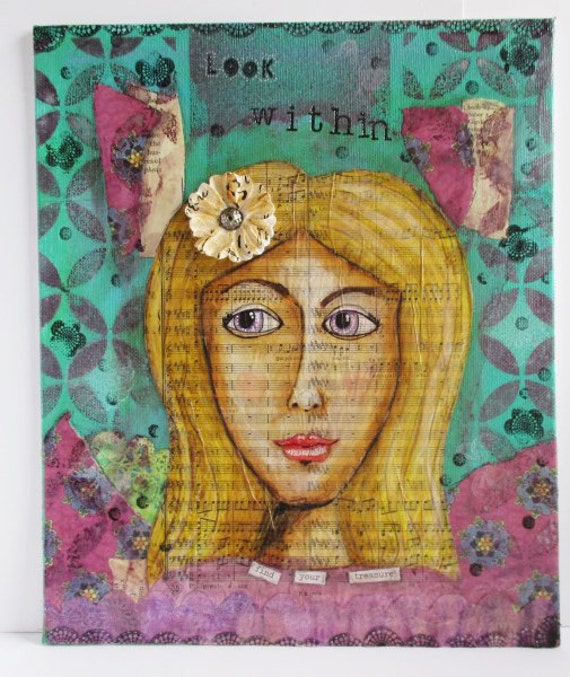 and here's the finished girl! you can buy her (if you'd like to) over in my store as an original
here
and as a downloadable art print
here
.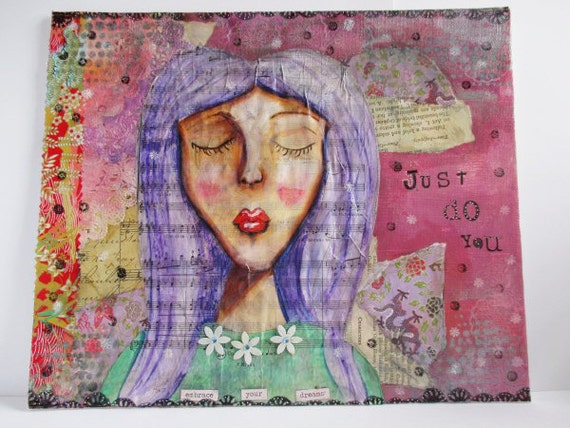 and here's my other finished girl! you can view and buy here as an original
here
and as a downloadable art print
here
.
i hope you enjoyed this little peek into my process.
have a fantastic day people!