Hey there people and Happy Wednesday to you, wherever in the world you may be. Today I am excited to share with you another episode of my art series on my little blog - Insta-Art.
I love sharing the process behind my art here on the blog. Seeing works go from a blank page to a finished piece is so much fun! It also might inspire you and your art work too!
I have had this old
Byron
book lying around for years. I got it from a house clearance shop and I have never really known what to do with the book. I always felt it was important somehow...
The book has all kinds of post cards and envelopes inside, filled with
lovely old handwriting
and stamps. It was obviously a well-loved book in it's previous owners' care.
Full of notes on the poems and little age spots that just show how well-loved it really was. I hesitated to use the pages to create art work as I didn't want to vandalise this lovely old book. I realised though that the book was lying unused on a shelf. Better that it should
come alive
within some new art work instead I think.
The beginnings of my first sketch, made in pens.
Time to add some colour with my new pro-markers.
Now it's time to add some stamping!
My desk - in all it's messy glory afterwards! That was all cleaned up straight after this photo I promise!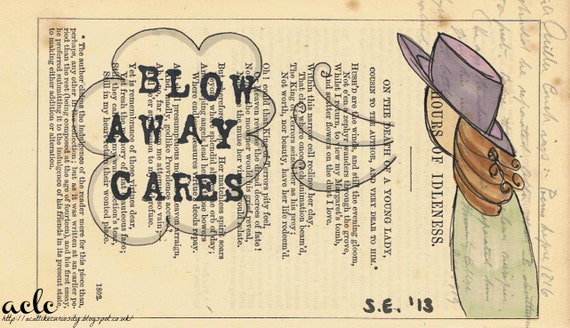 I hope you've enjoyed this little peek into my process.
Have a great day people!